Here is where you'll find all the latest news, views, and opinions from Orwell Design Associates.
Year 12 students get insight into design industry
07 February 2020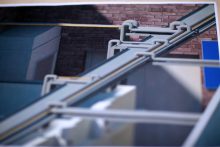 ODA has welcomed 3 students over the past 3 weeks from local Sixth Form College Suffolk One for a work experience placement. The Year 12 students are all completing engineering courses at the Ipswich college, and spent a week with the ODA team gaining insights into the commercial design sector.
During the placement, the students were given introductions into design software AutoCAD and BIM as well as Micropipe, another piece of software which the team uses to analyse and size refrigeration pipe networks. The students also gained an excellent overview of basic refrigeration training and guidance to give them greater context of the work that ODA does.
ODA has built up strong links with Suffolk One college as part of its commitment to recognising young talent and providing career opportunities, and the team really enjoyed having the students with them.
Roger Mapperley, Design Director, said: "Giving individuals the opportunity to gain technical insight into the refrigeration design industry at a young age is important because it helps them to make more informed career decisions. Refrigeration is incredibly important in our everyday life, and as a sector it offers a wide range of meaningful career options".
Back to News