We're Orwell Design Associates. We provide independent refrigeration design services to the retail and service sectors.
We're renowned for our knowledge and innovation. Our designs push boundaries and we use cutting edge technologies to find solutions that others can't. We're ahead of the game.
We're here to help. Our team of engineers are the best in the profession. They'll work closely with you to find a solution that meets your needs. Our experience and understanding mean your project is in the safest hands.
We'll lead your project every step of the way and you'll have complete transparency throughout. We keep things simple so you have peace of mind over cost and reassurance that we'll deliver on time.
If you'd like to work with us, here are the services we can help with: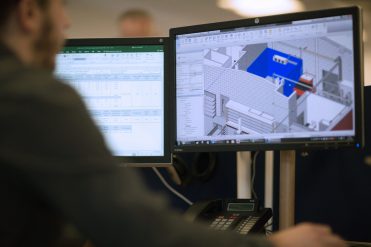 Our Service Portfolio
Refrigeration Design
Our comprehensive design service encompasses refrigeration, mechanical and electrical and capabilities span refrigeration systems, natural refrigerants and heat recovery applications.
We're proud to embrace cutting-edge technology and push boundaries to design systems that are entirely custom-developed for a specific customer. We can also design standardised systems to capture model store principle roll out programmes.
We have a portfolio of successful projects of all sizes and complexities. We work to any brief to deliver energy efficient, cost-effective and compliant solutions underpinned by innovation.
Refrigeration Consultancy
Our clients count on us for independent advice and guidance to ensure their chosen refrigeration, mechanical or electrical solution meets their requirements and those of the wider industry.
By bringing fresh new ideas to the table, we provide project-focused, direct support from start to finish with a single point of contact, ensuring that you achieve:
Value for money on capital expenditure
Optimum performance for your property
Legal compliance
Optimum energy efficiency
Design for maintainability
We're proud to have become a trusted consultant to many of our clients already, thanks to our innovative and collaborative ways of working.
Project Drawings
Our dedicated team of AutoCad and Revit trained Engineers provide comprehensive support for projects and engineering solutions including:
2D layout drawings AutoCAD
3D Building Information Models (BIM) using Revit
Whether you need 2D or 3D drawings for your refrigeration, mechanical or electrical project, our industry-leading practices and unrivalled attention to detail ensure we provide accurate and reliable construction designs.
We have a wealth of experience creating drawings for a wide variety of environments, including supermarkets and other retail spaces, distribution centres, and production and pharmaceutical facilities.
Auditing
We understand that the stakes are high during any project installation, and we want to help ensure there are no surprises. Here at ODA we offer a comprehensive auditing service to give you peace of mind.
Our auditing service covers:
The overall quality of your installation
Adherence to specification and best practice
Health and safety requirements
Equipment locations, maintenance access and ventilation requirements
Legal and compliance issues
Projects costs
Testing and witnessing requirements
O&M manuals
We provide these auditing services and more on a wide range of equipment, including refrigeration and air conditioning plant, cold rooms and refrigerated cabinets.
Technical and Design Support
We understand what's important to our clients, which is why we provide a comprehensive range of technical and design support services.
Our unrivalled engineering expertise positions us perfectly to deliver targeted support that focuses on legal compliance, balances life cycle with running costs and achieves energy efficiency to help you meet your environmental targets.
We provide:
Technical support
Specification writing and reviews
Technical bulletin support
We can offer these as standalone services, or part of an integrated solution.
Site Support
Our extensive experience and in-depth knowledge enables us to offer a comprehensive array of site support services. Carried out by our in-house team of experts, you'll receive clear and practical advice based on sound engineering principles. We provide:
Condition surveys
2D and 3D measured surveys
Equipment appraisals
Project management
Asset management
We ensure your project runs smoothly from start to finish, and is completed on time, within budget and to specification.